Three Delta Lab students are presenting their research using Wesleyan Media Project (WMP) data during virtual sessions this summer. Two Delta Lab students, Brianna Mebane ('22) and Roshaan Siddiqui ('22), presented their ongoing work and preliminary findings at Wesleyan University's virtual Summer 2020 Research Poster Session on July 30, and Adina Gitomer ('20) will be presenting her work with Saray Shai at the Politics and Computational Social Science (PaCSS) and Political Networks (PolNet) virtual conference on August 13, 2020. Read a little more about their work below.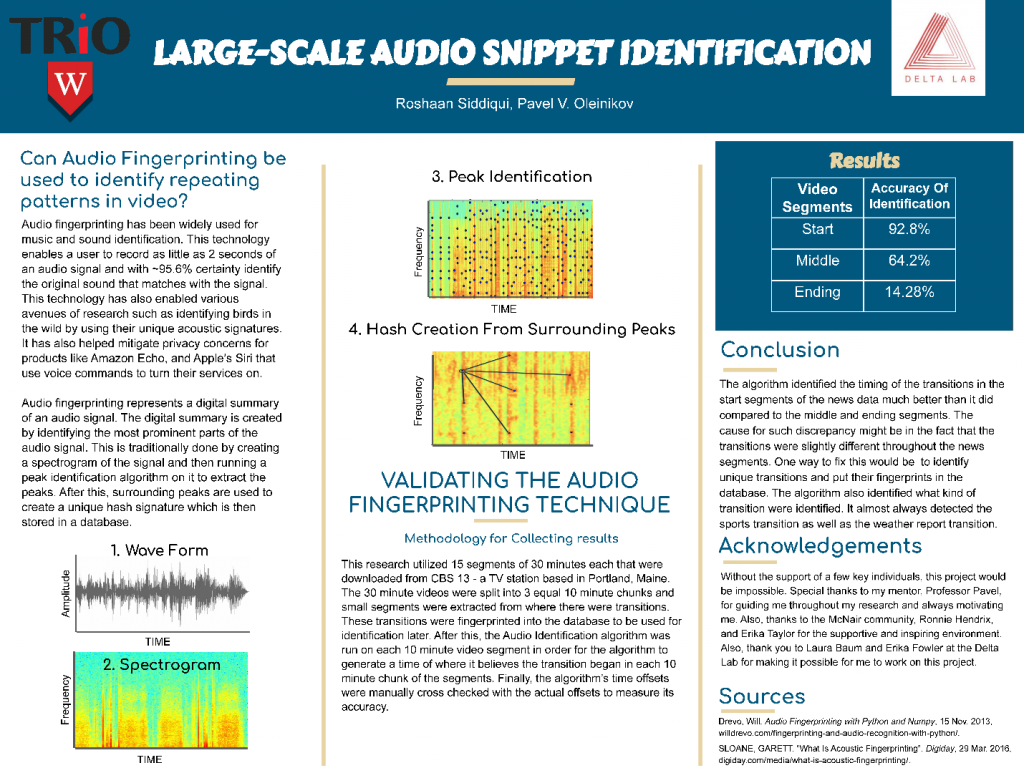 Roshaan Siddiqui ('22) spent the summer working on WMP's extensive corpus of local television news broadcasts to apply audio fingerprinting to help automatically identify commercial breaks to separate advertising from news segments. More specifically, he employed the music used by a particular news station to help identify transitions in and out of news broadcasts.
"Delta Lab has given me numerous opportunities to contribute my skills towards ongoing projects that seek to improve the fabric of our society. Not only have these projects pushed me to enhance my creative and analytical skills, but more importantly, the Delta Lab community has given me the courage to challenge status quo thinking in our fast paced world."

Roshaan Siddiqui ('22)
Brianna Mebane ('22) worked with the Delta Lab team on analyzing the content of political advertising this summer. For her poster, she presented some initial work using topic modeling to assess advertising from the top 100 Facebook pages that ran ads referencing coronavirus and the extent to which they contained a racial component.

"Joining Delta Lab this summer introduced me to a community of support, encouragement, and compassion. As I learned the skills necessary to conduct data analysis, I also became more adaptable and improved my ability to work as part of a team."

Brianna Mebane ('22)
Adina Gitomer ('20) has spent the summer doing a deep dive into the Facebook data using network analysis. More specifically, she has been investigating how we might learn about sponsors of Facebook advertising through the geographical information about where their ads are seen, and she will be presenting "Who funds political ads on Facebook? Examining the source through the receiver" at a panel on campaigns.
"It has been a huge privilege to be a part of the Delta Lab. My research skills have grown tremendously through my work in the lab, and all the while, I have received an endless stream of support and uplift from the rest of the team. I always look forward to our weekly meetings — learning about the circulating projects and the impressive work being done with them, and just getting to spend time in a collaborative and engaged environment. I give the Delta Lab 5 stars!"

Adina Gitomer ('20)