By Natalie Appel '23, Drew Olsen '24, Bryan Do '24
Candidates take different approaches when it comes to advertising on Facebook in terms of how much is spent on each ad, the content of ads, and how long each is live on the platform. We wanted to investigate these trends and find patterns in the way candidates advertise themselves, especially to see how political affiliation, incumbent status, or level of government could influence advertising strategies.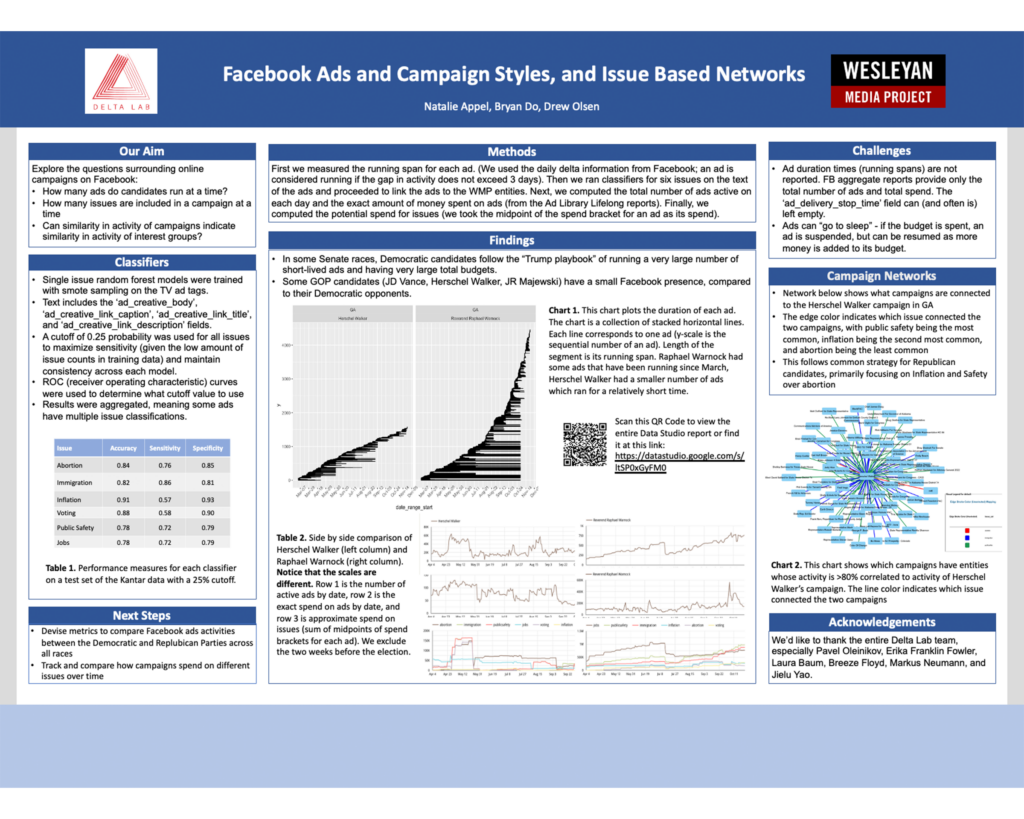 We measured the running span of each ad (the span of consecutive days the ad was live with no more than a three day gap), total number of ads active on each day, and the exact amount of money spent, focusing on the differences between three GOP candidates and their Democratic opponents who exhibited substantial differences in their advertising behavior. We found that in some Senate races, Democratic candidates tend to run a large amount of short lived ads as opposed to Republicans, and that some Republican candidates have a very small Facebook presence compared to their opponents. To look into differences in ad content we ran issue based classifiers on the text of these ads to determine how much candidates were mentioning certain hot button issues and how much of their spend on ads was devoted to talking about what. Last, we analyzed networks showing how some campaigns are connected to others and by what issues they are connected. Our results were consistent with known strategies, showing that Republican candidates primarily focused on issues of inflation and public safety as opposed to abortion. Moving forward we hope to devise a way to compare strategies across all races.
Check out more student posters:
• Using Guns in Political Advertisements
• Evaluating Automatic Speech Recognition Models on Digital Advertisements by Latine Candidates